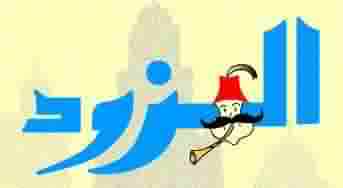 | | | |
| --- | --- | --- |
| | Rai Music from the USA | |




Inscrit le: 19 Aoû 2004

Messages: 4

Posté le: 23 Mar 2005 11:04

Hey every body

I'm so happy to hear a lot of new generation doing hip hop in tunisia. I think we need it to express our problems .....

In my part I'm a Rai singer that trying to cross- over from the USA and show our culture and music to the amaricans.

It's just so nice to feel proud of our music and try to spread it some where else.

I might come to tunisia this summer for a national tour, and I'll appreciate your guys support

Please cheack my website:

www.mcrai.com

to know more about me, and please email me if you have any questions or requests.

I'm also looking to produce some hip hop artist, drop me a line if you are one of theme.

I understand franch very well so you can write me in french.

Peace

| | | |
| --- | --- | --- |
| | | |




Inscrit le: 24 Mar 2004

Messages: 3317

Localisation: Mezouedistan

Posté le: 23 Mar 2005 11:16

Good work


_________________


Notre banque vous prête du mezoued à un taux de 0% pour voyager en Tunisie pour 0 euros !!!




Inscrit le: 01 Avr 2004

Messages: 1980

Localisation: germany

Posté le: 23 Mar 2005 12:34

joli morceau "toulli lila"
| | | |
| --- | --- | --- |
| | Re: Rai Music from the USA | |




Inscrit le: 24 Juil 2004

Messages: 226

Localisation: lyon

Posté le: 23 Mar 2005 20:57

mc rai a écrit:
Hey every body
I'm so happy to hear a lot of new generation doing hip hop in tunisia. I think we need it to express our problems .....
In my part I'm a Rai singer that trying to cross- over from the USA and show our culture and music to the amaricans.
It's just so nice to feel proud of our music and try to spread it some where else.
I might come to tunisia this summer for a national tour, and I'll appreciate your guys support
Please cheack my website: www.mcrai.com to know more about me, and please email me if you have any questions or requests.
I'm also looking to produce some hip hop artist, drop me a line if you are one of theme.
I understand franch very well so you can write me in french.
Peace


TRADUCTION SVP.

| | | |
| --- | --- | --- |
| | | |




Inscrit le: 01 Avr 2004

Messages: 1980

Localisation: germany

Posté le: 23 Mar 2005 21:38

traduction::

salut tout le monde!
heureux de voir des jeunes tunisiens qui font du hiphop.je pense qu on a besoin pour bien s exprimer.
je suis un chanteur de rai qui essaye de montre notre culture et musiques a travers les USA
je viendrais cet ete en Tunisie pour faire 1 tournee,et votre encouragement me serait de valeur.
voici mon site web www.mcrai.com pour mieux me connaitre,n hesitez pas a m envoyer des mails si vous avez des questions ou suggestions.
si vous etes rappeur contactez moi .

je comprends le francais,vous pouvez m ecrire en francais aussi !!

salem




Inscrit le: 13 Mai 2004

Messages: 817

Localisation: paris

Posté le: 24 Mar 2005 14:56

ok merci bon courage mc_rai





Inscrit le: 17 Fév 2005

Messages: 226

Posté le: 24 Mar 2005 15:30

really for your beginning it's a nice song

so please try to do your better and to work hard

to show what tunisian's are able to do

my advice for you MCRAI

KNOW HOW TO DO AND DO IT WELL

Tunisian researcher in JAPAN

Khamsa w KHmiss Alina Partout

vos belles photos sont la bienvenue sur

www.tunisians-everywhere.forumactif.com




Inscrit le: 06 Jan 2005

Messages: 181

Localisation: Carthage Palace

Posté le: 01 Avr 2005 21:47

its really great homie, 4sho, we're waiting 4 for better

take care and do it well

Peace
Vous ne pouvez pas poster de nouveaux sujets dans ce forum
Vous ne pouvez pas répondre aux sujets dans ce forum
Vous ne pouvez pas éditer vos messages dans ce forum
Vous ne pouvez pas supprimer vos messages dans ce forum
Vous ne pouvez pas voter dans les sondages de ce forum

Toutes les heures sont au format GMT + 2 Heures
Page 1 sur 1